( ENGLISH --> please scroll down ! )

Liebe Leserin ! 
Bevor ich Tipps zu SM-Spielvorbereitungen gebe, zwei Vorbemerkungen : 
1. Die Wunsch-Konstellation "Devoter Mann - Dominante Frau" scheint mir die häufigste zu sein. Deshalb lege ich hier darauf meinen Schwerpunkt.
2. Haftung :  Ich übernehme keinerlei Haftung dafür, wenn was "schief" läuft.  
1. Du brauchst Know-How : Kaufe dir ein Buch zum Thema "SM für Einsteiger/Anfänger", "SM für Paare" oder ähnliches, damit du gut in deiner dominanten Rolle vorbereitet bist. (Wenn du gleich beim ersten Spiel einen blöden Anfänger-Fehler machst, kann es sein, dass dein Spielpartner nie wieder mit dir spielen will, oder es kommt sogar zu einer schlimmen Gesundheitsgefährdung ! )
2. Du brauchst einen Spielpartner : Spiele nur mit jemandem, dem du wirklich vertraust, und den du auch gerne hast. (Lasse niemals reale Aggressionen an deinem "Sklaven" aus. Missstimmungen in der Beziehung müssen vorher geklärt werden). 
3. Du brauchst einen Spielort : SM-Mietzimmer oder SM-Wohnungen kann man zum Teil schon für unter 100.- Euro anmieten. (Die rosa Blümchen-Tapete im trauten Heim vermittelt nicht unbedingt die gewünschte Atmosphäre).
4. Du brauchst Zeit : Beginne mit circa 1 1/2 Stunden. (Kürzer ist schlecht, weil beide erstmal in die Stimmung reinkommen müssen; und länger ist auch schlecht, falls du zwischendurch keine neuen Einfälle mehr hast). 
5. Du brauchst einen Plan : Überlege dir vorher, wie die Session ablaufen soll. Es wirkt nicht sehr dominant, wenn du nicht weisst, was als nächstes geschehen soll. (Hab auch immer einen "Plan B", falls dein erster Plan aus irgendwelchen Gründen nicht funktioniert). Und hebe die besonders spannenden Ideen für das Ende auf ! 
6. Du brauchst Spiellust : Wenn du selber keine Lust zum Spielen hast, solltest du es nicht tun, weil sonst beide nur leiden (und das nicht im guten Sinne... ) Lass dir Zeit beim Befehle-Erteilen und genieße die ungeteilte Aufmerksamkeit deines "Sklaven" !
7. Du brauchst einen Werkzeugkoffer.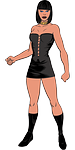 Natürlich kann man auch ohne Werkzeug ein SM-Spiel machen. Es wäre doch aber sehr schade wegen der ganzen verpassten Möglichkeiten... Was gehört zu einer Grundausstattung ? 
1. Dein Outfit : Besorge dir ein sexy-dominantes Outfit. Vielleicht sogar mit Perücke ?
(Achtung: Viele Menschen haben eine Latex-Allergie. Überprüfe vorher, ob du (oder dein Partner) auf sowas allergisch reagierst. Ansonsten geht auch Lack oder Leder). 
2. Was Fesselndes : Seile, Ketten, Handschellen ... 
3. Was zum Augen verbinden
4. Brustwarzenklemmen sind auch sehr beliebt
5. Was Piekendes : ein Wartenbergrad ...
6. Was zum Sortieren : Der "Sklave" soll unter Zeitdruck Dinge sortieren (Erbsen, Linsen, Lego-Steine, Haarklammern... ) und wird bei Versagen bestraft 
7. Und natürlich was Schlagendes:  Rohrstock, Kochlöffel, Paddel... und auf jedenfall eine schöne, große, schmerzhafte, striemenhinterlassende, über alles zu fürchtende Peitsche ! (Have Fun !!!  : ) )

Dear Lady-reader ! 
Before I give any advice on SM-Play-Preparations I have two preliminary remarks : 
1. The desired constellation "Submissive man - Dominant woman" seems to me to be the most common. This is why I`m focussing here on this.
2. Liability : I don`t take liability if anything goes "wrong". 
1. You need Know-How : Buy yourself a book with a title like "SM for Beginners" or "SM for Couples", so that you are well prepared for your dominant role. (If you make a stupid mistake just during your very first play, your play-partner could get unwilling to ever play with you again, or you can badly endanger his health ! ) 
2. You need a play-partner : Play only with somebody you really trust and whom you like. (You should never be aggressive to your "slave" for real. If there is any anger in your relationship you should deal with that before you start playing). 
3. You need a play-location : SM-rooms or SM-appartments can sometimes be rented for less than 100.- Euro. (The pink-flowered wallpapers in your own appartment might not quite generate the desired atmosphere). 
4. You need time : Start with 1 1/2 hours. (Less time is bad, because both persons need to come into the right mood first; and more time is also bad, because a beginner might run out of ideas during the play). 
5. You need a plan : Think about the whole SM-Session and how you would like to do it. It doesn`t seem very dominant, if you don`t know what should happen next. (Also make some alternative plans beforehand in case your original plan doesn`t work out for some reason). And keep the most exciting ideas till the end of the play !
6. You need the right play-mood : When you don`t feel like playing, you shouldn`t do it, because otherwise the both of you will suffer (and not in a good way... ) Take your time when giving orders and enjoy the undivided attention of your "slave" !
7. You need an SM-Tool-Box .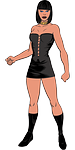 Of course you can play SM without specific tools. But think about all the opportunities you would miss... So as a basic equipment you should have : 
1. Your outfit : Buy yourself a sexy-dominant outfit. Maybe even with a wig ? (Warning: Many people have a latex-allergy. Make sure that you (and your partner) don`t have any allergies connected with the equipment. Instead of latex you can also wear leather or patent-leather). 
2. Something for binding : ropes, chains, handcuffs ... 
3. Something for blindfolding
4. Nipple-clamps are also very popular
5. Something for pricking : a pinwheel ... 
6. Something for sorting out : The slave should sort out some stuff under time pressure (peas, lentils, Legos, hairclips... ) so he can get punished if he fails
7. And of course something for hitting : cane, wooden cooking spoon, paddle... and under all circumstances a beautiful, big, painful, stripes-making, awe-inspiring  whip !  (Have Fun !!!  : )  )